Yesterday I posted on Twitter a picture of a homemade thai diner and some of you asked me to share the recipe. Good news it's very (very) simple, really tasty and vegan!
Ingredients for 4 servings
1 onion
1/2 green pepper
6 little portobello mushrooms
1/2 eggplant
1/2 zucchini
1 box of bamboo shoots
1 box of baby corn
1 can of coconut milk
green curry paste (You can differ the dose according to the taste you are looking for)
2 tablespoon of soy sauce
1/2 lime
Options: You can add veggie chicken (textured soy protein)
1. Dice all the veggies (except bamboo shots and lime)
2. In a pan, heat the oil at medium temperature and stir in the chopped onions. 
3. Add the vegetables (except the lime) and the veggie chicken, and stir occasionally (10min) 
4. Add the coconut milk, and the green curry paste. Be careful, the green curry is VERY spicy. Add 1 tablespoon, taste, and add another one if the sauce seems to light.
5. Add the soy sauce and the lime
6. Cover and cook over low heat for 15 minutes more
You can serve this dish with Thai Jasmine rice.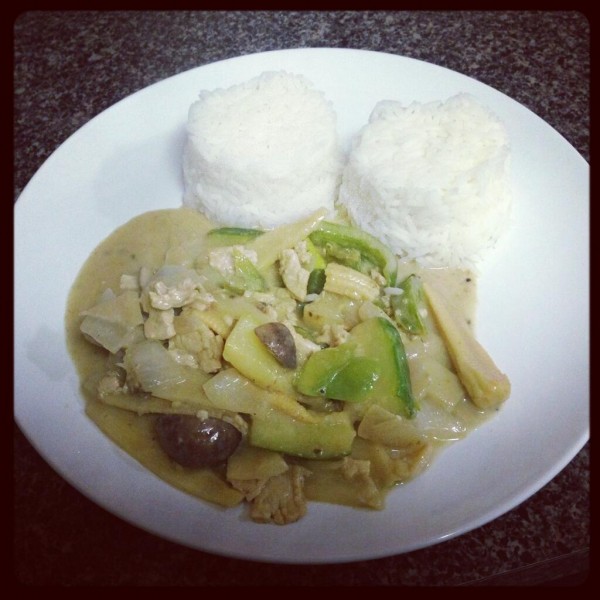 Bon appétit!